G+ Life 3 Tier Black Rolling Storage Cart
31010
Wholesale Metal Rolling Basket Cart, Steel Rolling Organizer Cart 29.3" x 16.9" x 14.2"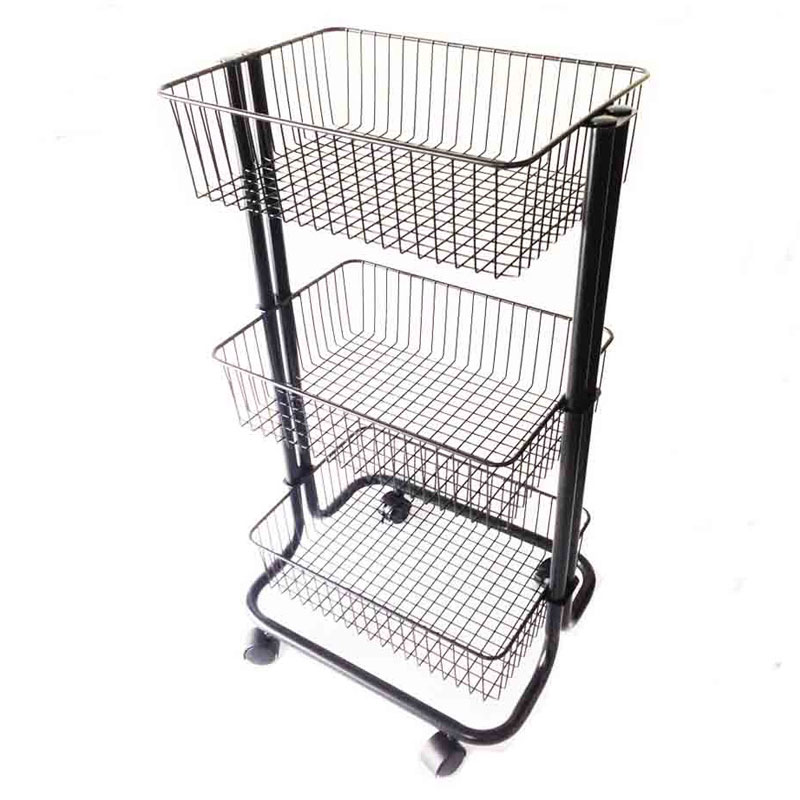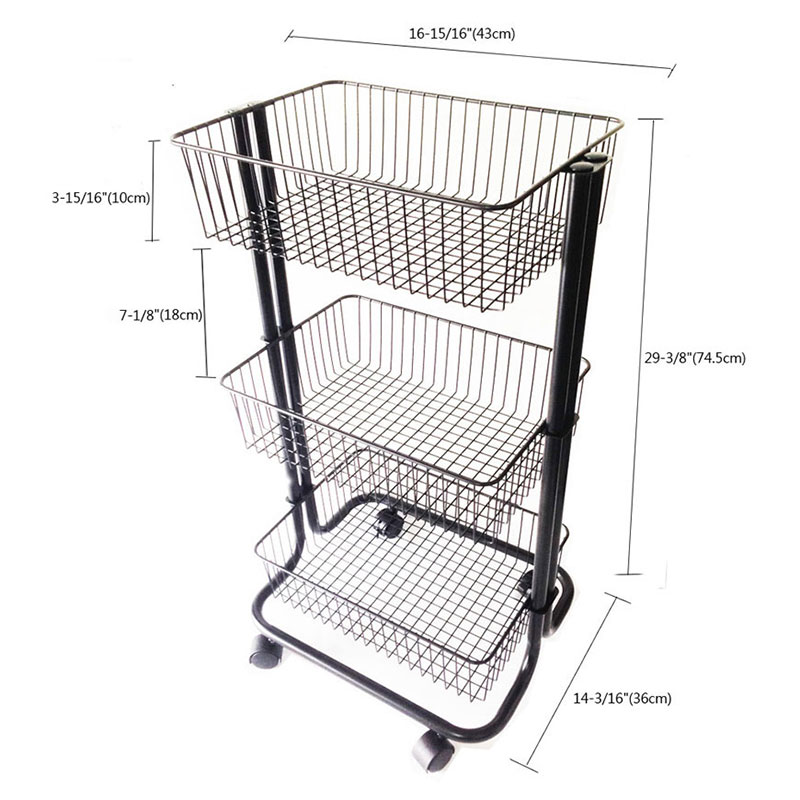 Greenjet 3 Tier Rolling Cart provides optimal space for holding clothes, toiletries, art crafts, and more. It creates various storage solutions for your daily life. Greenjet 3-tier rolling storage cart is highly durable by virtue of its robust powder-coated steel frame and has 3 spacious mesh basket shelves, ensuring you a long-lasting use. Its black color and simple design make this cart stylish and classic.
G+ Life 3 tier rolling cart can be easily and conveniently rolled to anywhere.
Stop exerting yourself carrying equipment and supplies. With 4 heavy-duty casters with 2 lockable brakes, Greenjet 3 tier rolling can be easily moved smoothly to wherever you want or placed in a permanent place. Hence, you don't have to worry about the storage cart moving or getting out of control. Besides, it can ensure effortless mobility even when fully loaded and no damage to the floor. This rolling cart has mobile versatility to any operation such as office, restaurants, factory and more.
Greenjet is your reliable partner.
Greenjet's homeware are sold worldwide. We are a professional homeware supplier to offer you from small purchases to bulk purchases. We not only provide customize-designed service but also provide fast shipping. It only takes 2 days to arrange the delivery after confirming the order. Easy to setup is the most outstanding advantage of this rolling cart. It only takes one person to effortlessly set up it with a screwdriver in 10 minutes.(simple wrench included) What's more, it's also a snap to disassemble the rolling cart, when not in use. For more details, you can check out our assembly video below.
Features
Spacious Storage Capacity: Each basket measures 16.9 x 14.2 x 3.9 inches; 3 spacious mesh basket shelves can save floor space and optimize vertical space utilization.
Sturdy & Durable: Made of durable powder-coated steel frames and mesh baskets, and each unit holds up to 22 pounds.
Grid Basket: Can stimulate airflow, perfect for kitchen and laundry room; more transparency to allow easier access to your items.
Easy to Transport: With 4 heavy-duty casters and 2 lockable brakes, it can be conveniently rolled to anywhere.
Quick to Assemble: Only takes 10 mins to install with our Assembly Guide easily and effortlessly set up this cart with a screwdriver.
Shipping Information: We use air / ocean freight shipment or express delivery services to deliver your products.
Payment Terms: Our main payment method is TT and Paypal. If you have any specific requirements for the payment method, feel free to contact us.
Specification
Color: Black
Size: 16-15/16"W x 14-3/16"D x 29-3/8"H
Weight: 8.64lbs / 3.9kg
Load Capacity of Each Unit: 22 lbs / 10kg
Material: Steel
Surface Treatment: Powder Coating
Country of Origin: Taiwan
Notices
This item is available on Amazon(US), and you can check it on the shop page.
Photo Gallery

Movies

Greenjet 3 Tier Rolling Cart - In this video, we're going to show you how easily it can be to set up Greenjet's 3 tier rolling cart on your own.

Related Products

31011

---

Greenjet 3 Tier Storage Cart provides optimal space for holding toys, reading materials, foods, home decorations, and more. Greenjet 3-tier utility cart is highly durable by virtue of its robust powder-coated steel frame and has 3 spacious mesh basket shelves, ensuring you a long-lasting use. Its white color and simple design make this cart stylish and classic. This cart has mobile versatility to any operation such as office, restaurants, factory and more.

---

34071 / 34072 / 34073 / 30476 / 30477 / 30478

---

Greenjet Wood Storage Box is made from natural pine, and it has 3 different sizes and 2 heights to provide you multiple uses. The stackable design also makes these wood boxes nest neatly to each other when not in use.

---

27105

---

Greenjet's plastic clip with silver hook is multipurpose and easy to use. They can serve as shower curtain clips in your bathroom or drapery clips in your living room. Our plastic clip with hook is an ideal way for hanging merchandise that fails to hang on hooks such as footwear, socks, home textile and accessories. These hanging clips are lightweight and sturdy that can handle quite a few pounds. They are sold in a pack of 50.

---

---

Files Download

---

Read the instruction to learn more about the parts of this rolling cart.

---

---

Read this leaflet to learn how Greenjet rolling cart can bring convenience to your home.

---

---
Press Release
Save Your Chaotic Life

Bringing shelves home can somewhat save your chaotic life, but moving the heavy shelves may cause another problem. Don't worry! Our cart can help you out.

Read More

Light Up a Corner

Our end table is ideal furniture to light up a corner at home. The steel legs offer sturdy construction while the walnut finish adds warm tone to the room.

Read More

Economical Display

We provide a variety of mannequins. Either the one with hook or one with self-standing base is definitely practical for displaying clothes.

Read More