G+ Life 15 inch Adjustable Steel Side Table Legs, Set of 4
32501
DIY Metal Coffee Table Legs, Silver Round Cabinet Legs, Metal Furniture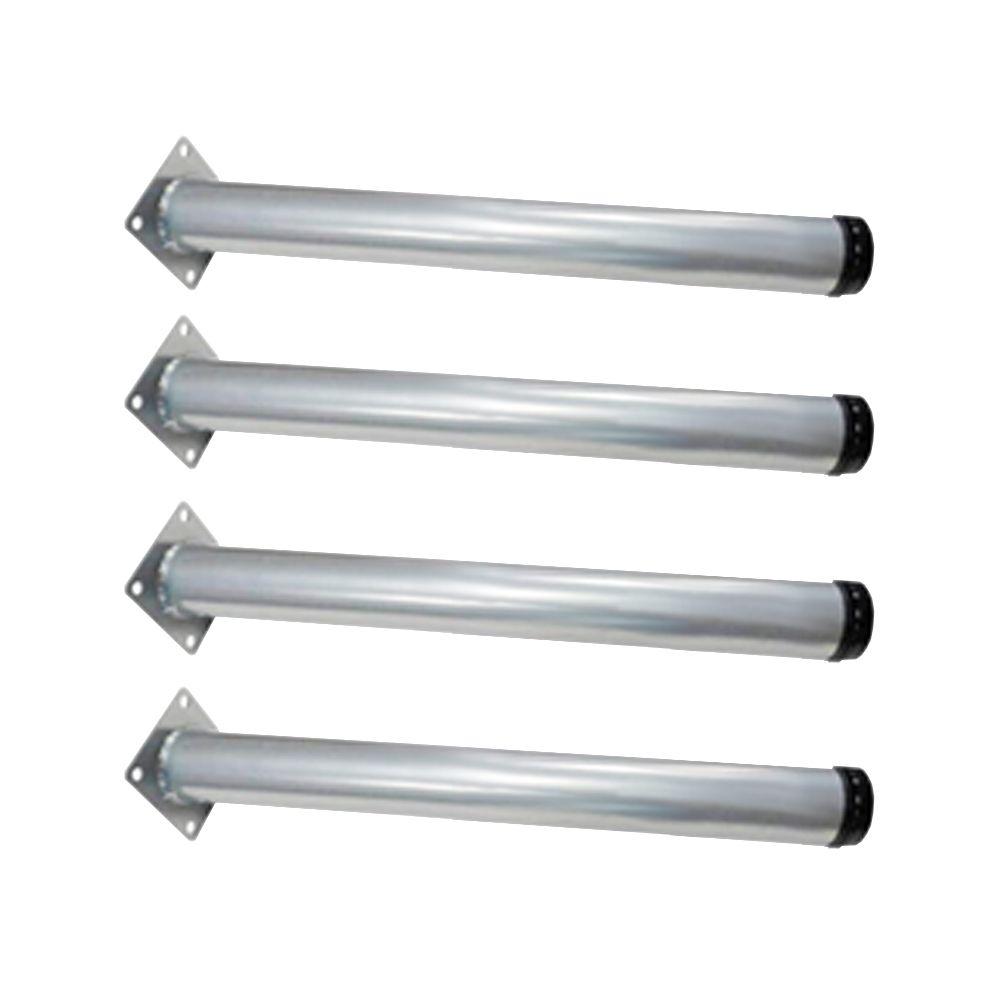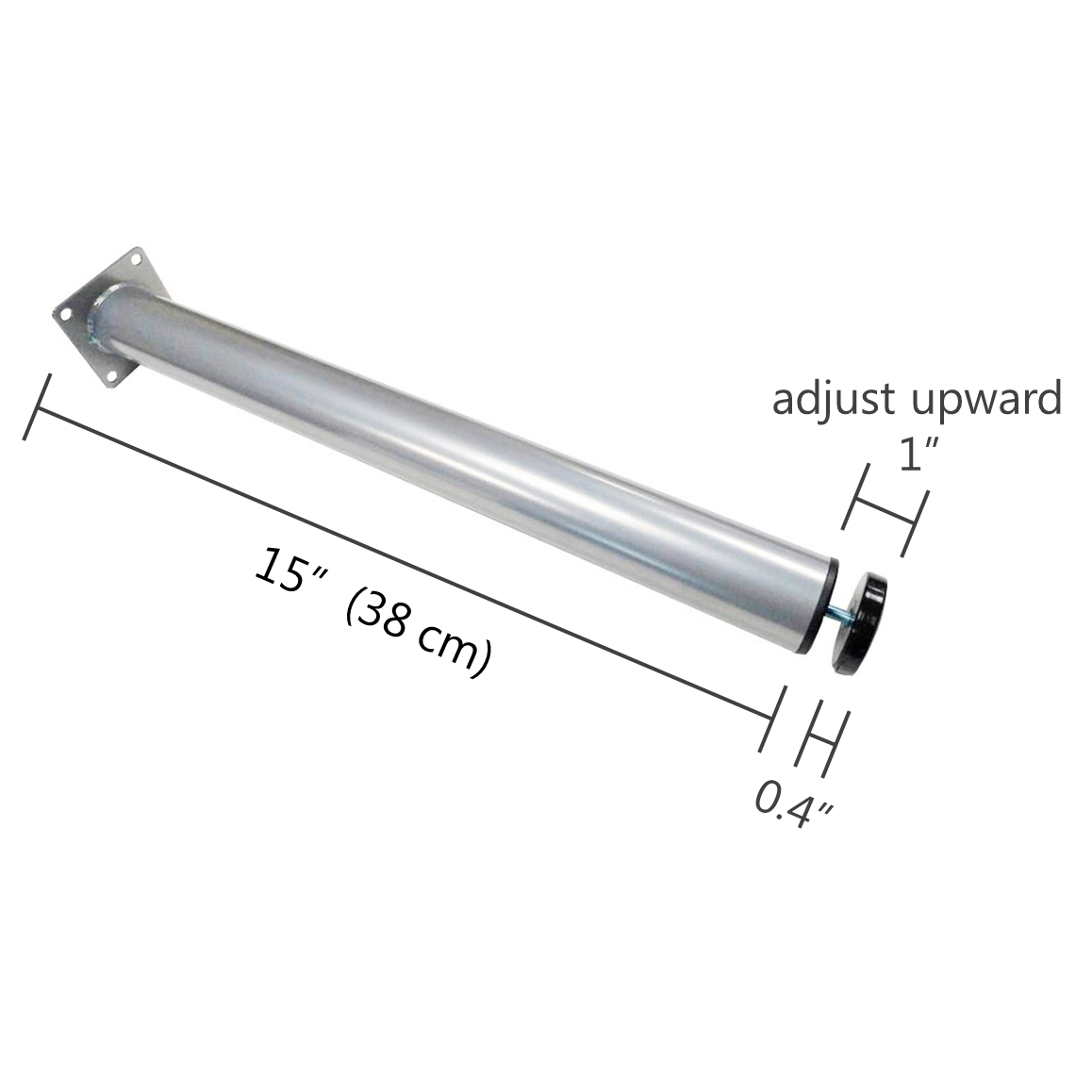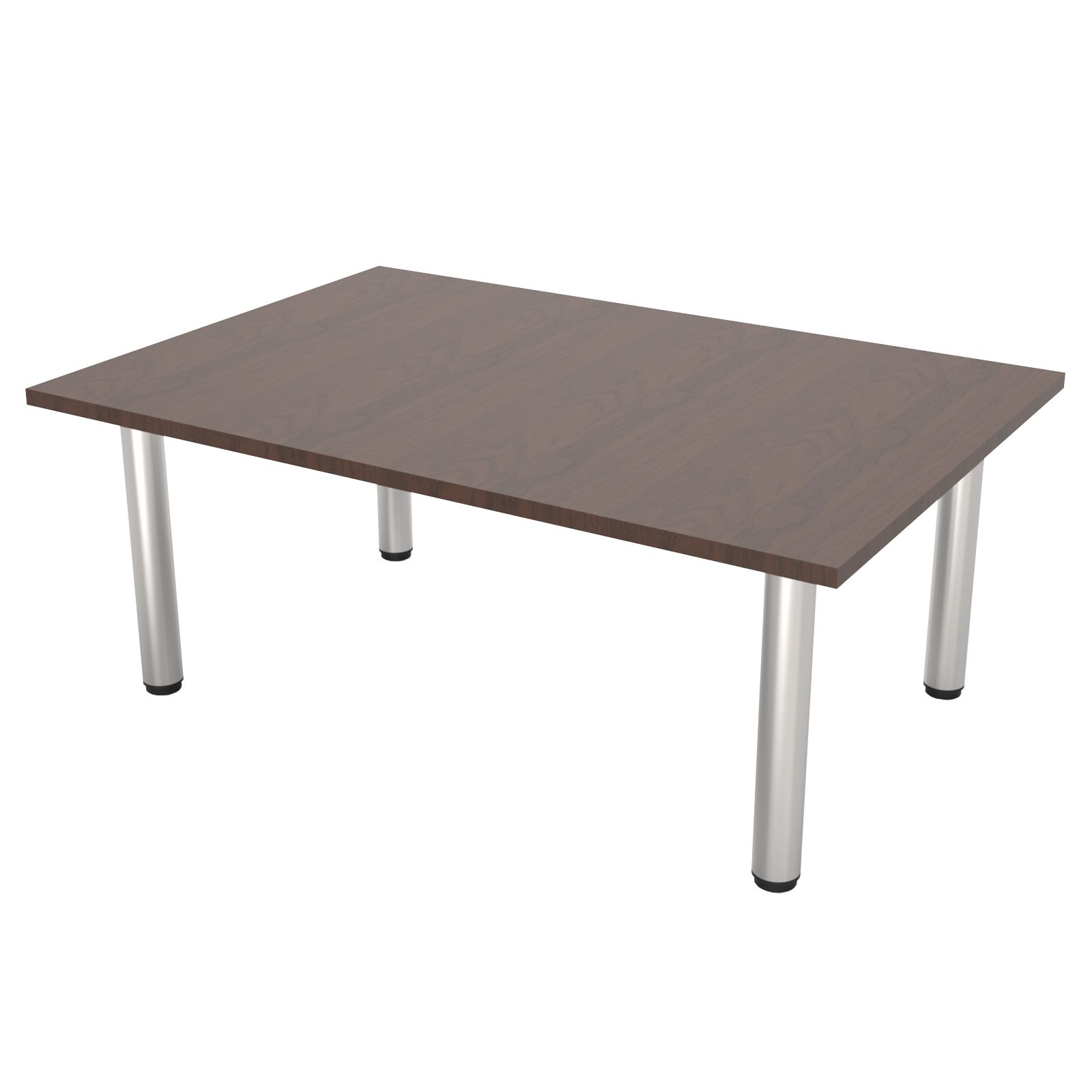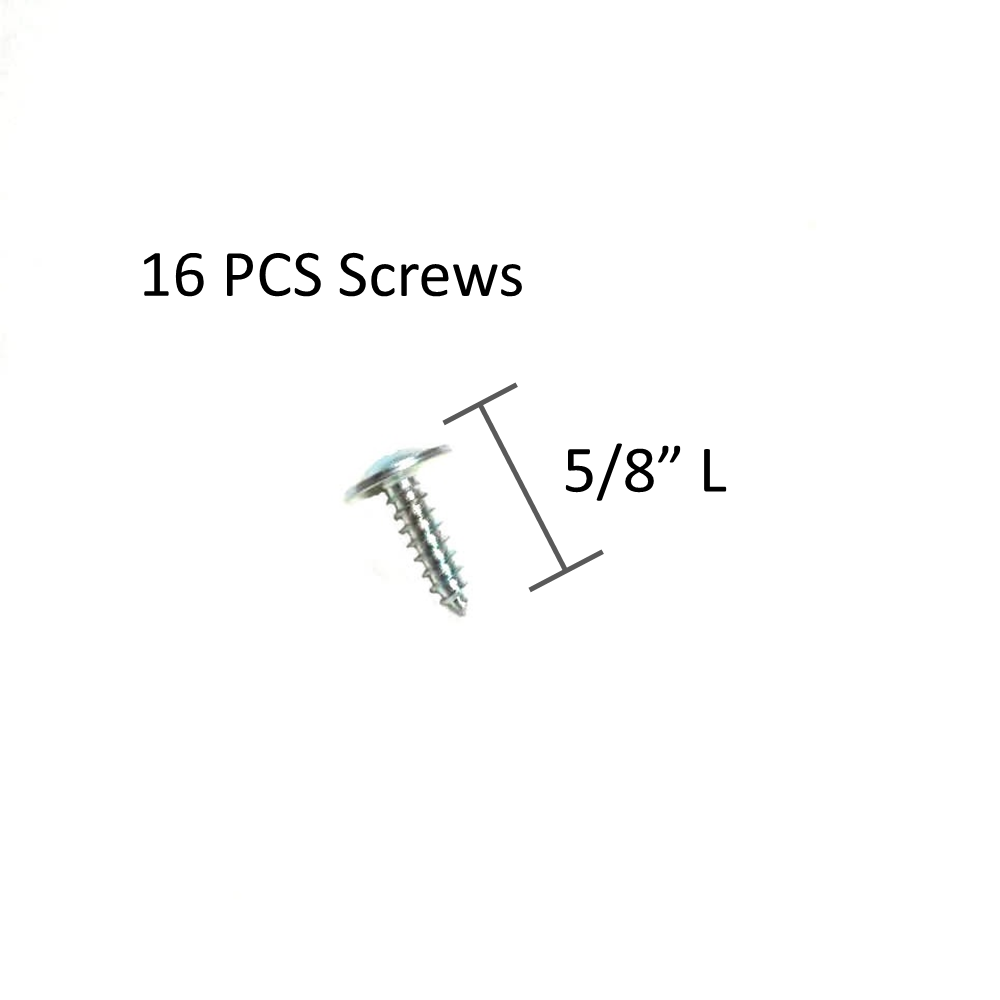 Greenjet 15 inch adjustable steel table legs have the ideal height for the shelf, coffee table, bedside table, and TV stand. Greenjet metal table legs come with leveler feet designed to make your table suit any uneven ground. You can twist the leveler feet to adjust the height of the table.
Our side table legs are made of high-quality industrial-strength pipes, and each diameter is 2" to handle heavy loads. The hard and durable steel material can also be used for a long time.
Greenjet heavy-duty steel end table legs can support up to 220 pounds.
Time to replace the old and wobbled furniture legs and raise your table to the right height! Greenjet 15" desk legs will help restore and transform your table into fantastic new furniture. After completing the DIY home improvement project, you will feel full of accomplishment! Greenjet 15 inch adjustable table legs set includes 4 pieces of table legs and 16 screws, and it's easy and effortless to attach these legs to the table board by using a screwdriver. Moreover, each short table legs features 4 pre-drilled holes in a square mounting plate for quick installation in minutes.
Greenjet 15-inch steel table legs with adjustable feet pad stably stand on any uneven ground.
Greenjet 15" adjustable table legs come with leveler feet designed to make your table suit any uneven floor. You can twist the leveler feet pad to adjust the height of the table. What's more, the smooth bottom surface can protect the floor from any scratch or damage. Our solid steel table legs have a high weight capacity to hold up to 220 lbs (100 kgs), yet it still depends on the overall table board construction.
DIY your own desk with Greenjet silver desk legs to fit in a new modern home environment.
The surface of Greenjet side table legs is treated with silver powder coating; it results in a thick, dense, and even finish on iron products which can be more durable and longer-lasting than conventional painting. With a silver smooth finish, it can protect round table legs from getting rust easily. Greenjet silver modern table legs will upgrade the outlook of the table, and offer up a new look to your house!
Greenjet is Your Trusted Partner.
Greenjet's products are sold worldwide. We are a professional homeware supplier to offer you from small purchases to bulk purchases. We not only provide customize-designed service but also provide fast shipping. It only takes 2 days to arrange the delivery after confirming the order.
【Shipping Information】: We use air / ocean freight shipment or express delivery services to deliver your products.
【Payment Terms】: Our main payment method is TT and Paypal. If you have any specific requirements for the payment method, feel free to contact us.
Features
【Sturdy & Stable】Made of heavy-duty tubular steel, providing superior support and lasting performance.
【Adjustable Feet Pads】Total length of bench legs is 15" excluding the leveler feet; leveler feet pad allows an additional 1" upward height adjustment and ensures your table to stably stand on the uneven floor anytime.
【Sleek and Decent Design】With glossy silver satin powder coating and beautiful smooth lines, Greenjet coffee table legs bring a modern and stylish look to your house.
【Easy to Install】Greenjet metal table legs are your best DIY option; just only a screwdriver to assemble easily and quickly.
【Wide Range of Uses】Ideal as a base for various furniture like cabinet, shelf, coffee table, end table, living room table, nightstand, bedside table, media console, TV stand, couch, sofa, chair, stool, and entryway bench, etc.
Specification
【Color】: Silver
【Size】: 15"L x 3.125" x 3.125" / 38 x 7.9 x 7.9 cm
【Weight】: 5.7 pounds / 2.6 kg
【Load Capacity】: 4 legs assembled with 30" x 25" table shelf can holds up to 220 lbs evenly
【Material】: Steel
【Surface Treatment】: Powder Coating
【Country of Origin】: Taiwan
Notices
This item is available on Amazon(US), and you can check it on the shop page.
Photo Gallery

Movies

You can easily attach Greenjet 15 inch Round Metal Table Legs to the table board with a screwdriver.

Related Products

32500

---

Greenjet 20 inch adjustable steel table legs have the perfect height for cabinets, coffee table, nightstands, end table, and media console. Our metal table legs are made of strong iron, and each diameter is 2" to handle heavy loads. This hard and durable steel material can be used for a long time. What's more, these solid metal table legs hold up to 220 lbs, yet it still depends on the overall table construction. Its surface is treated with silver powder coating; it results in a thick, dense and even finish on metal products which can be more durable and longer-lasting than conventional painting.

---

32010

---

Greenjet coffee table can be folded flat, making it easier to store in a small space. It also does not require assembly, and the folding design makes it very convenient to carry it anywhere. If you need to keep the table lamp at your bedside during the night or keep your glass of wine close by a sofa while reading a book, Greenjet folding side table is your best choice!

---

31011

---

Greenjet 3 Tier Storage Cart provides optimal space for holding clothes, toiletries, arts, crafts, toys, reading materials, foods, home decorations, and more. Greenjet 3-tier utility cart is highly durable by virtue of its robust powder-coated steel frame and has 3 spacious mesh basket shelves, ensuring you a long-lasting use. Its white color and simple design make this cart stylish and classic. This cart has mobile versatility to any operation such as office, restaurants, factory and more.

---

---

Files Download

---

Read the assembly guide to learn how you can attach these table legs set to your wood tabletop.

---

---

Read the instruction to learn how easily you can attach this set to your wood tabletop.

---

---
Press Release
Save Your Chaotic Life

Bringing shelves home can somewhat save your chaotic life, but moving the heavy shelves may cause another problem. Don't worry! Our cart can help you out.

Read More

Light Up a Corner

Our end table is ideal furniture to light up a corner at home. The steel legs offer sturdy construction while the walnut finish adds warm tone to the room.

Read More

Economical Display

We provide a variety of mannequins. Either the one with hook or one with self-standing base is definitely practical for displaying clothes.

Read More