4" Wire Grid Hooks
21204
Gridwall Hooks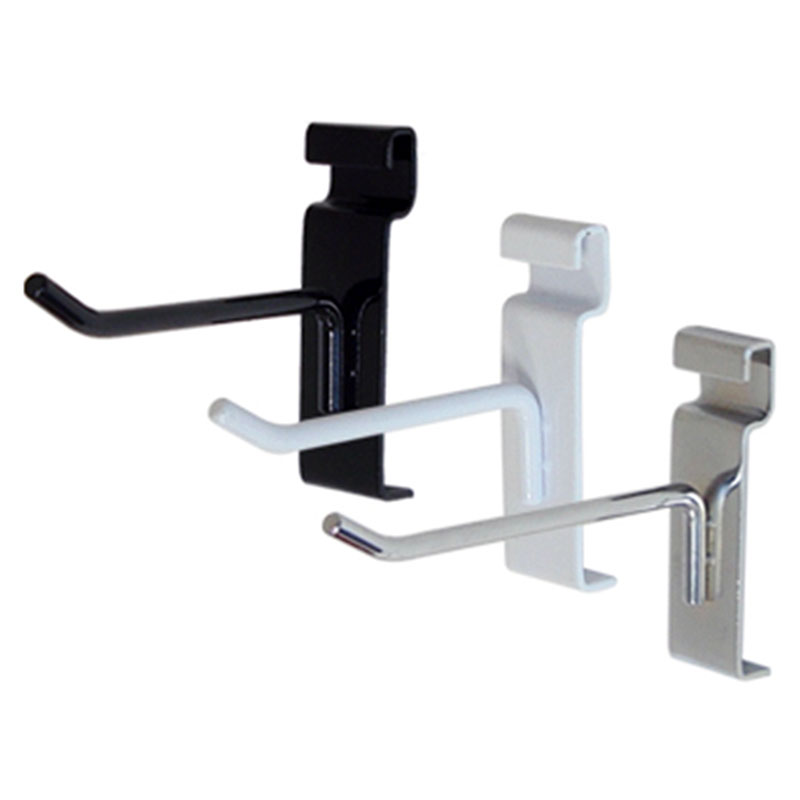 Display your merchandises in an organized way on your wall or grid fixtures with Greenjet 4" wire grid hooks. Our wire grid hooks are heavy duty and perfect for your hanging items. They help you make good use of the spare space on the wall and can make your products easy to be seen without distracting customers' attention. The grid hooks are one of the most cost-efficient display solutions, thus, if you own a small store or are a beginner who would like to improve the promotional strategies and boost the sales, they are definitely recommended.

Our gridwall hooks are constructed of sturdy wire. They are designed for use on our gridwall panel and universal wire grids, of which wires are spaced out every 3". Three basic colors (black, white and chrome) are available. These 4" grid hooks will easily blend with your retail décor and other display fittings.

Greenjet is your best choice.
Greenjet's products are sold worldwide. We not only provide customize-designed service, but also provide fast shipping. It only takes 2 days to arrange the delivery after confirming the order.
【Shipping Information】: We use air / ocean freight shipment or express delivery services to deliver your products.
【Payment Terms】: Our main payment method is TT and Paypal. If you have any specific requirement for payment method, feel free to contact us.
Features
4" wire grid hooks are sold in pack of 25.
Our grid hooks fit most wire grid panels and wire grid stands.
The 4" hooks are available in black, white and chrome finish.
Our gridwall hooks is ideal for enhancing the visibility of your merchandises.
Specification
【Color】: Black, White, Chrome
【Size】: 4" L
【Material】: Steel
【Surface Treatment】: Chrome Plated, Powder Coating
【Country of Origin】: Taiwan
Photo Gallery

Related Products

21206

---

Add Greenjet 6" grid wall pegs to your wall grids or grid display to maximize the area where you can make your products eye-catching. Our grid wall pegs attach easily to grid wall. They are adjustable and removable for displaying different sized products. You can hang them on anywhere you like on your grids and customize your display according to your need. 6" wire grid peg hooks are commonly used for holding clothes, packaged snacks, fashion accessories and a variety of hanging merchandises.Greenjet is your best choice. Greenjet's products are sold worldwide. We not only provide customize-designed service, but also provide fast shipping. It only takes 2 days to arrange the delivery after confirming the order. 【Shipping Information】: We use air / ocean freight shipment or express delivery services to deliver your products. 【Payment Terms】: Our main payment method is TT and Paypal. If you have any specific requirement for payment method, feel free to contact us.

---

21208

---

Greenjet gridwall display hooks works well with standard wire grid wall and wire grid display. They measure 8 inches in length, providing enough room for display and storage purposes. Our display hooks are designed for small packed goods and most hanging items. 8" display hooks can be adjusted or removed from the panel as needed, thus, if you want to promote your seasonal merchandises or weekly hot sale products, they are the perfect solution.Our gridwall peg hooks are sold in set of 25. They are available in white, black and chrome finish. Made of sturdy wire, these peg hooks feature long-lasting performance. Beautifully finished hooks will incorporate well with other fixtures and your existing décor. Meanwhile, they can greatly increase the visibility of your products and boost the sales.Greenjet is your best choice. Greenjet's products are sold worldwide. We not only provide customize-designed service, but also provide fast shipping. It only takes 2 days to arrange the delivery after confirming the order. 【Shipping Information】: We use air / ocean freight shipment or express delivery services to deliver your products. 【Payment Terms】: Our main payment method is TT and Paypal. If you have any specific requirement for payment method, feel free to contact us.

---

21210

---

Create your own display with Greenjet 10" display peg hooks. Our display peg hooks can easily attach to your standard wire grid system for holding a variety of small packaged goods. You can make the grid unit suit your retail needs by changing the position of the hooks. You can also store them away when they're not in use. These metal hooks are sold as 25 per pack. Each set not only ensures the versatility and flexibility, but also maximizes the space of your display.Our display peg hooks are constructed of thick wire. They are durable enough to hold different sized merchandises. Beautiful finish makes them look stylish and perfect on the grid walls. The metal hooks will draw your customers' attention from all the direction of the store.Greenjet is your best choice. Greenjet's products are sold worldwide. We not only provide customize-designed service, but also provide fast shipping. It only takes 2 days to arrange the delivery after confirming the order. 【Shipping Information】: We use air / ocean freight shipment or express delivery services to deliver your products. 【Payment Terms】: Our main payment method is TT and Paypal. If you have any specific requirement for payment method, feel free to contact us.

---

---

Files Download

---
Press Release
Save Your Chaotic Life

Bringing shelves home can somewhat save your chaotic life, but moving the heavy shelves may cause another problem. Don't worry! Our cart can help you out.

Read More

Light Up a Corner

Our end table is ideal furniture to light up a corner at home. The steel legs offer sturdy construction while the walnut finish adds warm tone to the room.

Read More

Economical Display

We provide a variety of mannequins. Either the one with hook or one with self-standing base is definitely practical for displaying clothes.

Read More